REAL ESTATE GRAPHIC DESIGN
Our team of real estate graphic designers have the creative prowess and technical proficiency to produce a wide array of graphic design solutions. This includes both print and interactive visuals that can help elevate any business presentation or real estate marketing effort.  Specializing in real estate marketing, they understand the industry and can help you bring your design creations to life.  We also understand that real estate marketing is very time sensitive and many our design team goes the extra mile to ensure your designs are completed in a timely manner.  With your help and quick response, we can have designs completed within the same day and our in-house print department allows us to produce real estate print marketing materials with industry leading turn-around times. Our real estate feature sheets and property flyers can be produced with 24-hours.
We continuously strive to create rich visual experiences that achieve your business objectives, effectively serve your target audience, and help clearly deliver your message.  Here aret some of the areas we can help you with your graphic design…
Website Design
Feature Sheets
Listing Presentations
Postcard/Door Hanger Mailers
Print Advertising
Large Format Designs
Logo Development
Book Covers
… and Much More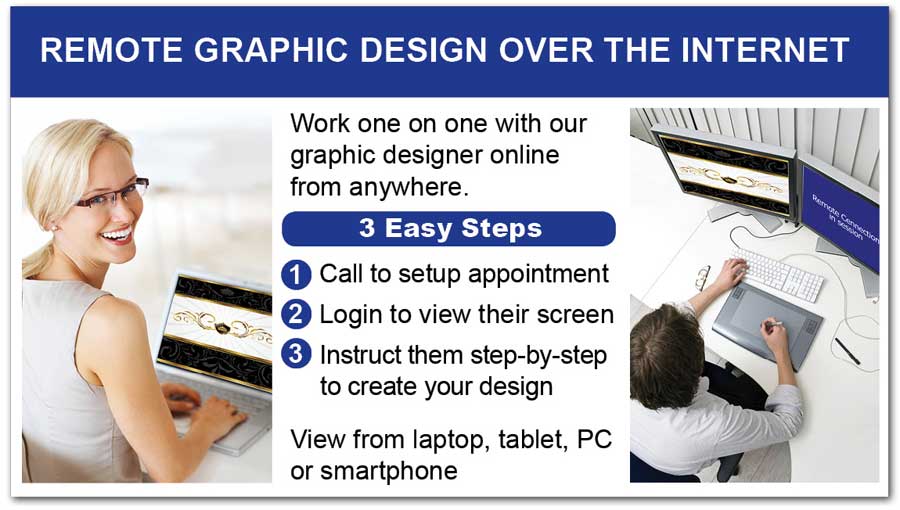 Our remote graphic design service will make the process very easy and convenient for you.  You will work one-on-one with a graphic designer as if they were right beside you but it is done at the comfort of whichever location you wish, all you need is a phone and an internet connection. (or a phone with an internet connection)  Whether at the office, at home, or on the beach, you can complete your real estate marketing material with a professional graphic designer.   Save all of the time going back and forth with emails and get exactly what you need done quickly and efficiently.  Remote design sessions are conducted by appointment only.  If you wish to reserve an appointment, please contact us at design@realmedia.ca with the date and time you wish to start.